When you open an account with Wealthsimple, we take a few steps to verify your identity. This helps us follow FINTRAC identity verification rules, along with industry best practices.
First, we try to verify your identity automatically. We perform a 'soft credit check' with a credit reporting agency to confirm your personal information and make sure the information matches what we have on file. This soft credit check does not allow us to check your credit score.
In some cases, the information we get from the credit reporting agency is insufficient to verify your identity. For example:
There is a mismatch between the details we have on file and those provided by the credit reporting agency
You have only been on file with the credit reporting agency for a short amount of time
You do not have a file with the credit reporting agency
In these cases, we will ask you to verify your identity by submitting a selfie along with a piece of government-issued photo identification.
Using a selfie and government-issued photo identification to verify your identity
FINTRAC outlines a number of different methods to verify the identity of an individual, including the selfie process we use at Wealthsimple.
In this process, we ask you to take a photo of your government-issued photo identification and then take a photo of yourself. You can see an example of what this would look like below: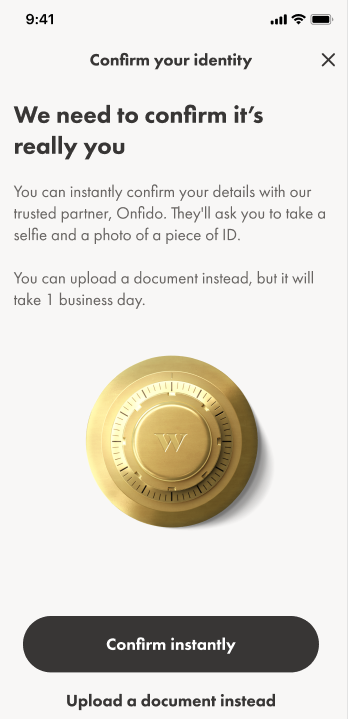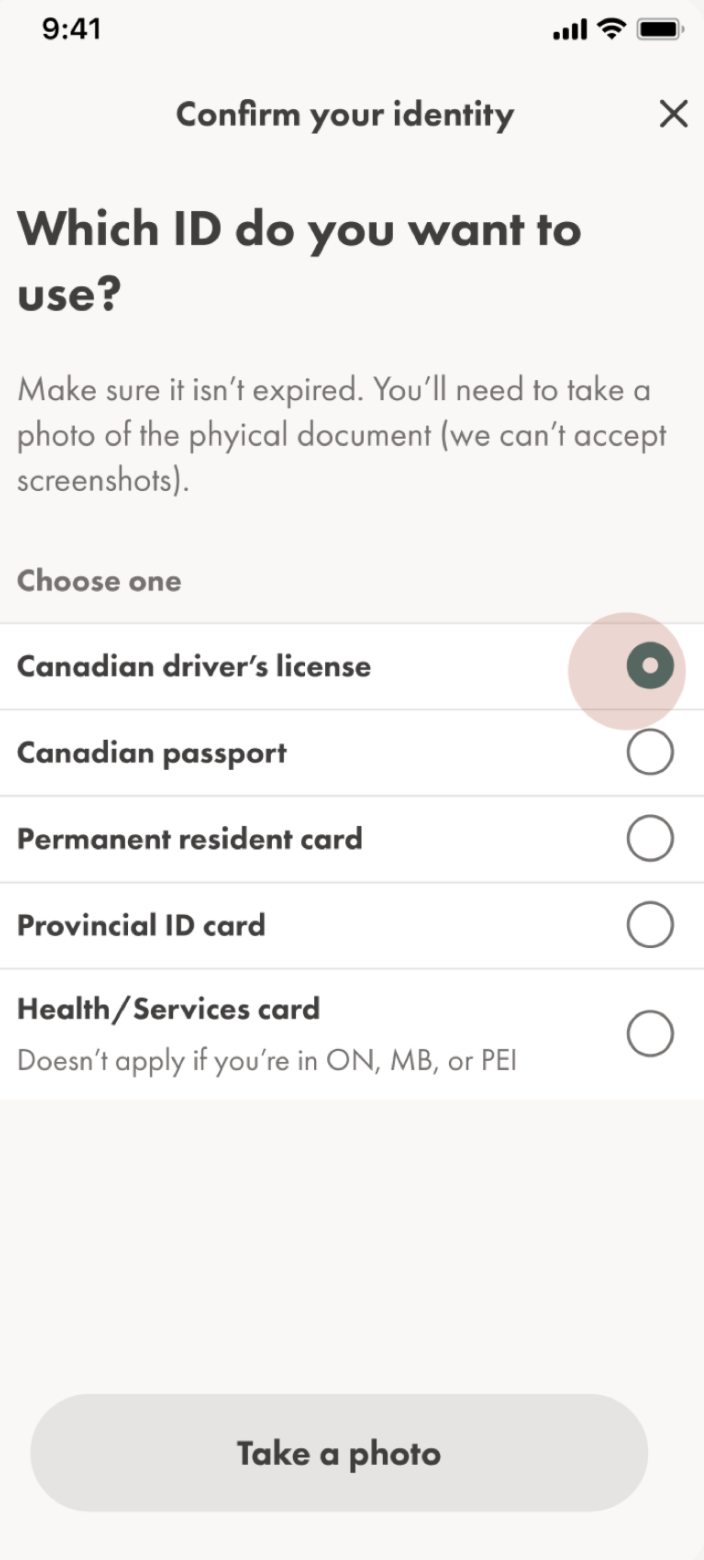 Tip:
If you're verifying your identity on desktop, you will have the option to
Continue on phone
or
upload a photo
.
Continue on phone:You will first be prompted to scan a QR code with your phone. Once you have done this, you will be prompted to take a photo.
Upload a photo: You can upload an existing photo directly from your computer files.
We are able to accept the following forms of government-issued photo identification:
Driver's license from any Canadian province/territory
Canadian passport
Canadian permanent residence card
Provincial photo-ID card
Health card (only for BC and QC)
If you don't have one of the accepted forms of identification above, you won't be able to complete the selfie verification process. However, you can manually verify your identity by uploading documents to your account. You can also reach out to our support team for further assistance.
Tip:
For us to accept your photo identification, it must meet the following requirements:
It cannot be expired
It must include your full legal name as specified on your Wealthsimple profile
It cannot be altered in any way (including stickers placed on the front or back)
It must be clearly legible, with no obscuring glare
All four corners of the document must be visible
Is this process secure?
Your safety is our top priority. We leverage a secure, third-party service, Onfido, to collect and review the documents you upload along with your selfie. Onfido then automatically deletes your information after 31 days.
For record-keeping purposes, we keep your documents on file to assist with any future information changes you may need to make. We also have to keep some information as a minimum to comply with our regulatory obligations.
I'm having trouble verifying my identity, what can I do?
If you are having trouble verifying your identity using the selfie method, double-check that —
Your app is completely up-to-date
Your ID is not expired. We are unable to accept an expired ID
All four corners of your ID are visible in the photo you submit
There is no glare in the picture of your ID
Note:
If you do not wish to take a selfie, or if you are unable to complete the process above, you can verify your identity manually instead. When we ask you to verify your identity, click the button that says
Upload a document instead
. We will ask you to upload
1-2 documents to verify your identity
.