Investor type
Our Conservative portfolios have around 35% equity allocation. These have been designed for a conservative investor desiring a slightly larger equity component. If you prefer stability and a modest return, this portfolio is for you. You should be willing to accept that there are short-term market fluctuations but also hold a long-term perspective.
Unsure about which Portfolio may be best for you? Our fiduciary team of advisors can help. Book time with us here or submit a request.
Performance
We've modelled a 35% equity portfolio below. This portfolio has grown by 27.36% (net of fees) since Wealthsimple's launch on August 20, 2014, to October 31, 2021.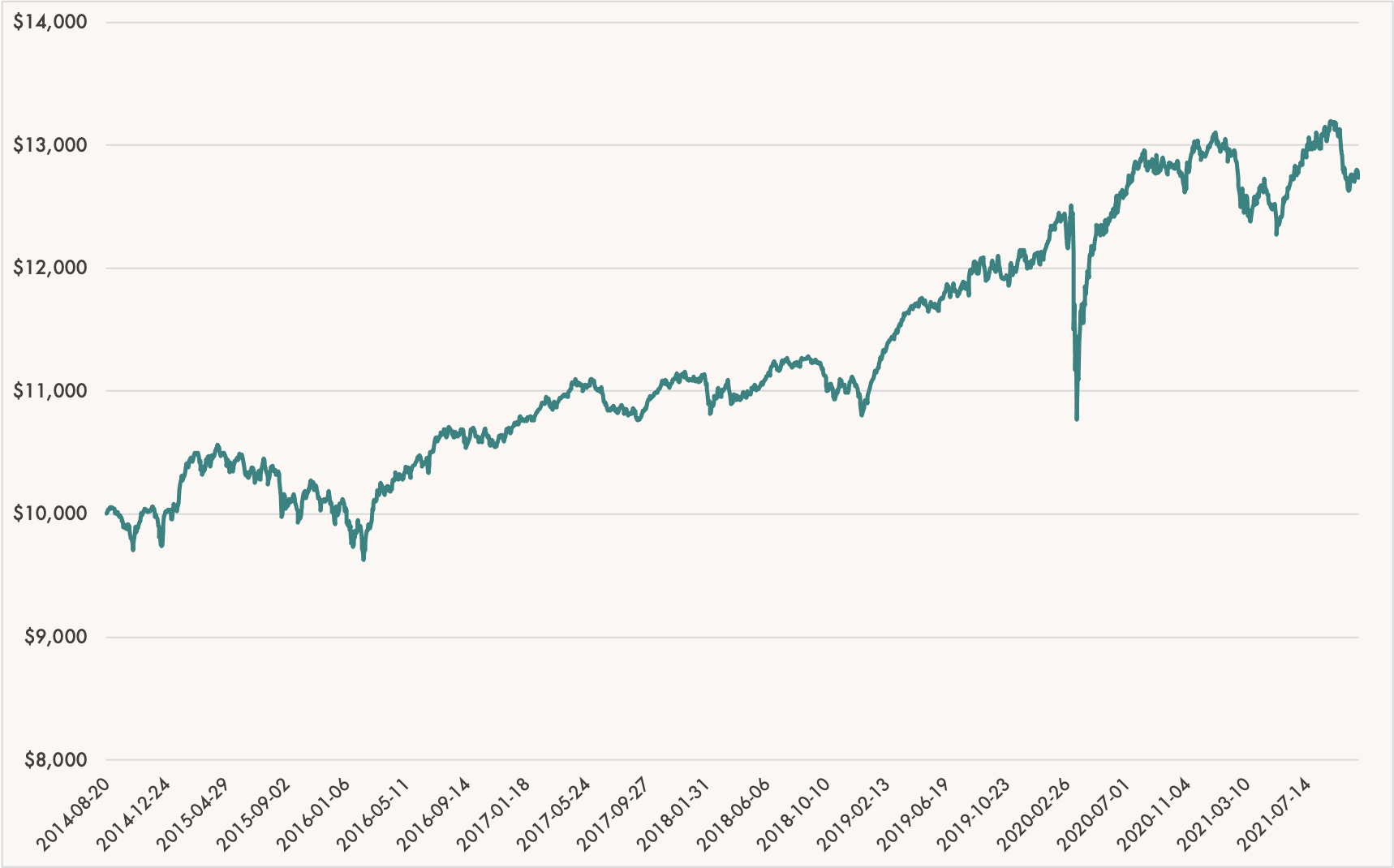 Initial Value: $10,000
End of Period Value: $12,736
Investment Growth - Time Period: Aug 20, 2014 - Oct 31, 2021
| | |
| --- | --- |
| Period | Performance (Cumulative) |
| 1m | -0.31% |
| 3m | -2.00% |
| 6m | 1.91% |
| 1yr | 0.56% |
| Inception | 27.36% |
| Inception (annualized) | 3.42% |
| 3yr (annualized) | 5.23% |
| 5yr (annualized) | 3.69% |
| | |
| --- | --- |
| Period | Performance |
| 2014 | 0.17% |
| 2015 | 0.71% |
| 2016 | 6.33% |
| 2017 | 3.41% |
| 2018 | -1.51% |
| 2019 | 10.16% |
| 2020 | 8.75% |
| 2021 | -2.69% |
Registered Account Breakdown
Your registered (RRSP) portfolio will be invested in the following funds:


| | | | |
| --- | --- | --- | --- |
| Vanguard Total Stock Market | VTI | 3,800 large, medium, small and micro-cap companies mirroring the US equity market | 5% |
| iShares MSCI Min Vol Global ETF | ACWV | Large, mid, and small-cap stocks in developed Europe, Australasia, and the Far East | 10% |
| iShares MSCI Min Vol Emerging Market Fund | EEMV | Exposure to 300+ emerging market equities with minimum volatility characteristics | 10% |
| iShares Core MSCI EAFE USD | IEFA | Large, mid, and small-cap stocks in developed Europe, Australasia, and the Far East in | 7.5% |
| Shares Core S&P/TSX Capped Composite Index | XIC | 250+ Canadian equities representing 95% of the Canadian equity market | 2.5% |
| Vanguard US Total Market ETF (CAD-Hedged) | VUS | Diversified companies mirroring the US equity market with hedged currency exposure | 0% |
| BMO Long Federal Bond Index ETF | ZFL | Long term debt securities issued or guaranteed by the Government of Canada | 37% |
| iShares Core Canadian Short Term Corporate Bond Index ETF | XSH | Short-term corporate debt | 25.5% |
| SPDR Gold MiniShares Trust | GLDM | Shares tracking the value of physical gold bars held in London vaults | 2.5% |

The MER of this portfolio is 0.16% and the management fee of this portfolio is 0.50%