Investor type
Our Growth portfolios range from 75-90% equity and are designed for an individual with medium-to-high risk tolerance. If you can bear market fluctuations with relative ease and understand that there can be short-term periods of poor performance, this portfolio is for you.
Unsure about which Portfolio may be best for you? Our fiduciary team of advisors can help. Book time with us here or submit a request.
Performance
We've modelled an 80% equity portfolio below. This portfolio has grown by 64.59% (net of fees) since Wealthsimple's launch on August 20, 2014, to September 30, 2021.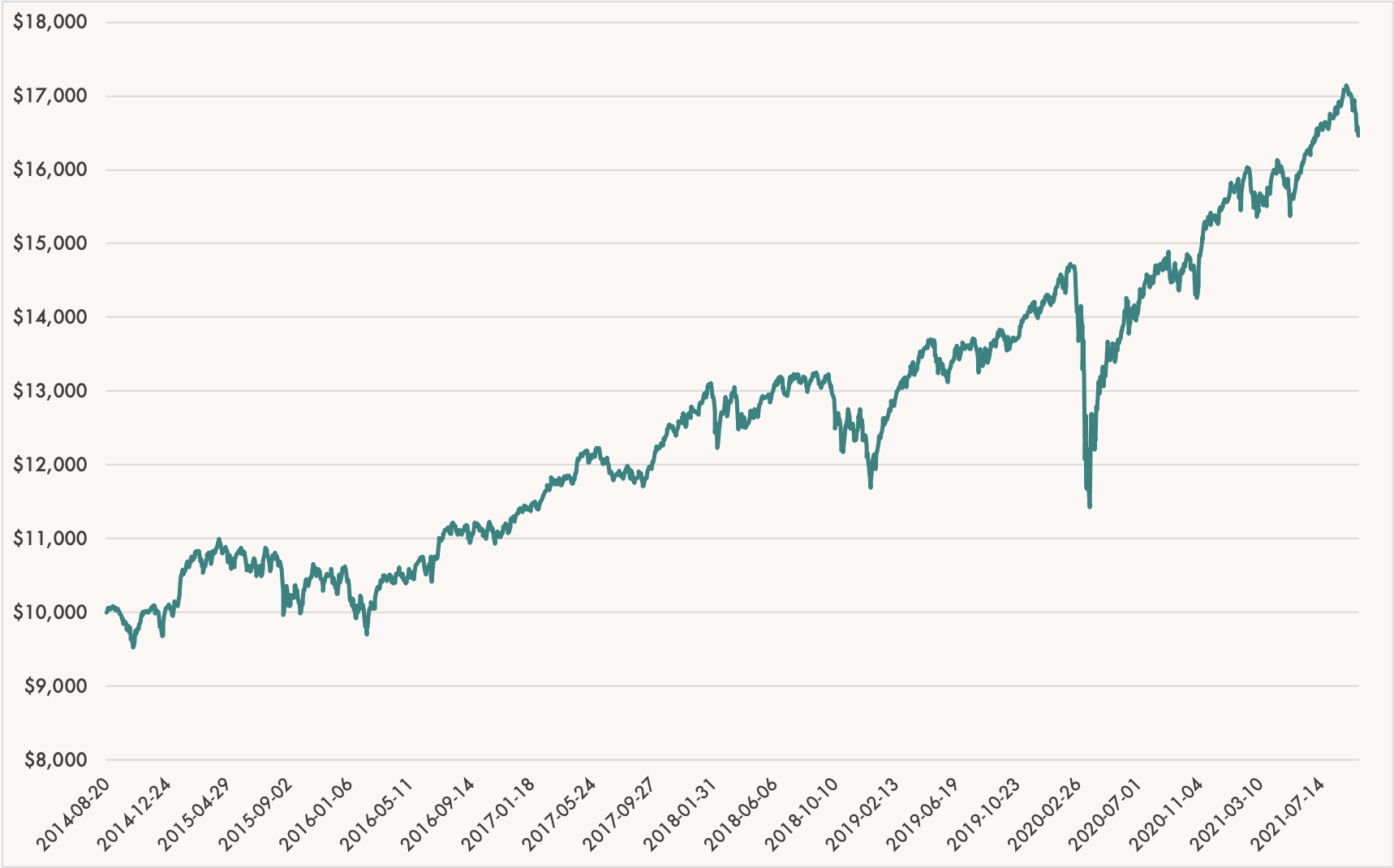 Initial value: $10,000
End of Period Value: $16,459
Investment Growth - Time Period: Aug 20, 2014 - Sept 30, 2021.
| | |
| --- | --- |
| Period | Performance (Cumulative) |
| 1m | -3.14% |
| 3m | 0.55% |
| 6m | 4.82% |
| 1yr | 12.81% |
| Inception | 64.59% |
| Inception (annualized) | 7.25% |
| 3yr (annualized) | 7.85% |
| 5yr (annualized) | 8.04% |
| | |
| --- | --- |
| Period | Performance |
| 2014 | 0.36% |
| 2015 | 4.70% |
| 2016 | 8.07% |
| 2017 | 11.76% |
| 2018 | -4.35% |
| 2019 | 16.82% |
| 2020 | 9.75% |
| 2021 | 5.74% |
Registered (RRSP) Account Breakdown
Your registered (RRSP) portfolio will be invested in the following funds:
| | | | |
| --- | --- | --- | --- |
| Vanguard Total Stock Market | VTI | 3,800 large, medium, small and micro-cap companies mirroring the US equity market | 20% |
| iShares MSCI Min Vol Global ETF | ACWV | Large, mid, and small-cap stocks in developed Europe, Australasia, and the Far East | 10% |
| iShares MSCI Min Vol Emerging Market Fund | EEMV | Exposure to 300+ emerging market equities with minimum volatility characteristics | 15% |
| iShares Core MSCI EAFE USD | IEFA | Large, mid, and small-cap stocks in developed Europe, Australasia, and the Far East in | 20% |
| Shares Core S&P/TSX Capped Composite Index | XIC | 250+ Canadian equities representing 95% of the Canadian equity market | 10% |
| Vanguard US Total Market ETF (CAD-Hedged) | VUS | Diversified companies mirroring the US equity market with hedged currency exposure | 5% |
| BMO Long Federal Bond Index ETF | ZFL | Long term debt securities issued or guaranteed by the Government of Canada | 16.5% |
| iShares Core Canadian Short Term Corporate Bond Index ETF | XSH | Short-term corporate debt | 1% |
| SPDR Gold MiniShares Trust | GLDM | Shares tracking the value of physical gold bars held in London vaults | 2.5% |
The MER of this portfolio is 0.13% and the management fee of this portfolio 0.50%