Before making your first crypto wallet withdrawal, you should ensure that the receiving deposit address is secure.
When you withdraw crypto to an external source (like a wallet), you will need your external wallet's deposit address. Always copy & paste or scan the provided address as transfers are
irreversible.
Technical Support and Impersonation Scams
Fraudsters will impersonate client support lines and direct victims there or make outbound calls. Here are some tips to help keep your account safe:
Never give remote access to your devices.

Never give out your digit 2FA (2-Factor Authentication) security codes or passwords.
Note: When contacting Wealthsimple support, we will ask to confirm a security code that we send during the interaction. We will never ask for your 2FA code that's used for account access.
Never accept outbound calls asking for your confidential personal information.

Never send cryptocurrency to external addresses on behalf of alleged support agents.
Giveaway Scams
Scammers can impersonate celebrities on social media or hack their accounts to organize fake crypto giveaways. They will offer to match and multiply the crypto assets sent to them as an opportunity to make a fast return. They may also use other fake accounts to support the legitimacy of the giveaway.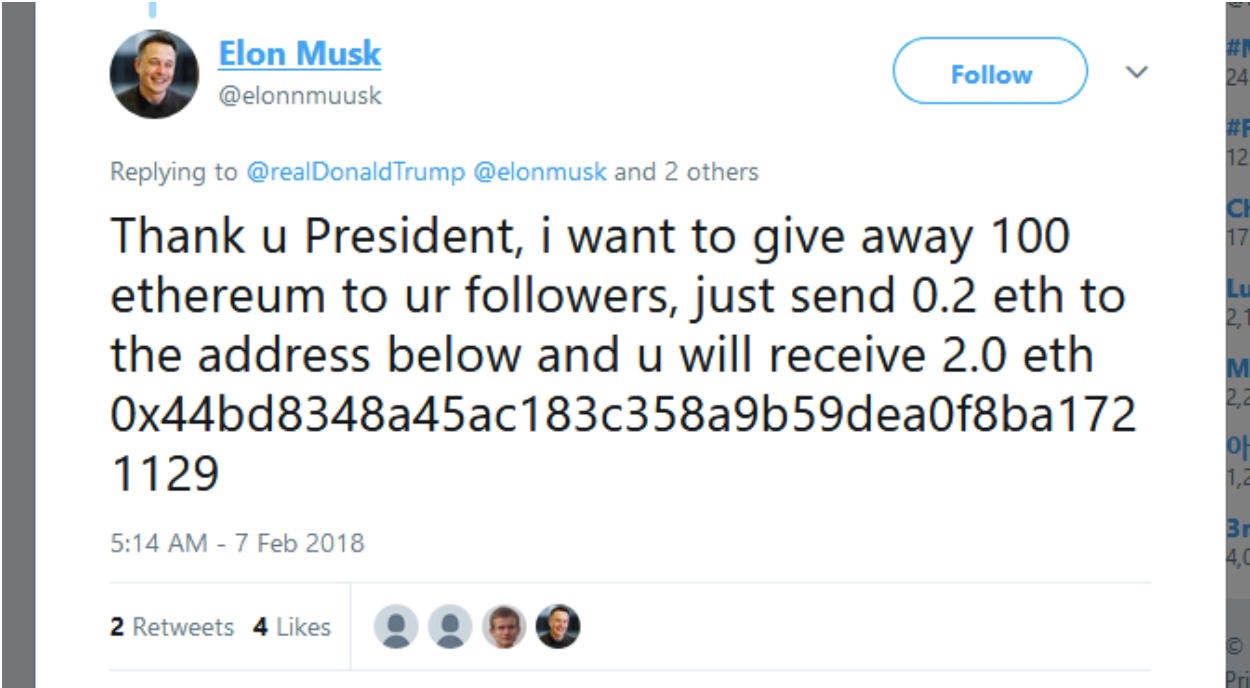 Here are some best practices to keep in mind:
Never send crypto assets for wallet address verification.

Ignore unsolicited reach outs asking for cryptocurrency payments.

Be skeptical and avoid offers that sound too good to be true.
Investment Scams
These are scams that advertise guaranteed high/fast returns with no risks. When it's time to withdraw funds, individuals might realize it isn't possible to get their money back. These can operate like pyramid schemes or unregulated investment managers.
Here are some tactics you can use to help avoid this type of scam:
Practice due diligence. Is the organization regulated? Does it have a track record/reviews?

Never send crypto assets unless you've done your due diligence.

Look for grammatical errors in the website URL or elsewhere on the page.

Stay clear of offers that sound too good to be true.
Phishing Scams
These scams are usually after personal login credentials that enable access to things like your bank or email accounts. Scammers will also try to gain access to crypto wallets by directing you to fake websites or emails that request your credentials.
Be careful:
Never give away your login credentials. Wealthsimple will never ask you to provide your login credentials.

Never reveal your private key or seed phrase. At Wealthsimple, you don't need to worry about managing your private key and seed phrase, because Wealthsimple is a custodial wallet. We won't provide keys and we will never ask for private keys.
Extortion Scams
Scammers may threaten to release personal information in return for crypto payment or a wallet's private key. For example, they may use an old password obtained from an external security breach.
This is criminal extortion and you should do the following:
Report this to law enforcement agencies.

Report the email/SMS to the service provider.

Run a malware scan and change your passwords.
Warning Signs
According to the
FTC
,
one sure sign of a scam is anyone who says you have to pay by cryptocurrency.
This also includes methods such as pay by
wire transfer
,
gift card
, or cryptocurrency. Scammers prefer these methods because they are irreversible.
Look for claims like these to help you spot the companies and people to avoid:
Scammers guarantee that you'll make money. If they promise you'll make a profit, that's a scam. Even if there's a celebrity endorsement or testimonials (those are easily faked.)
Scammers promise big payouts with guaranteed returns. Nobody can guarantee a set return, say, double your money. Much less in a short time.
Scammers promise free money. They'll promise it in cash or cryptocurrency, but free money promises are always fake.
Scammers make big claims without details or explanations. Smart business people want to understand how their investment works, and where their money is going. Good investment advisors want to share that information.
Preventative Measures
Here are some preventive measures for avoiding crypto scams according to AARP and FTC:
Enable app-based 2FA on wallets and exchanges that you use.

Before you invest, do your due diligence. Research online for the name of the company and the cryptocurrency name, plus words like "review," "scam," or "complaint."

Don't put money in a virtual currency or cryptocurrency if you don't understand how it works.

Don't speculate in cryptocurrencies with money that you can't afford to lose.

Don't invest in cryptocurrencies based on advice from someone you've only dealt with online.

Don't believe social media posts promoting cryptocurrency giveaways.

Don't share your private keys or seed phrase with anyone; keep them in a secure place.

If it's too good to be true, it probably is.
As mentioned on the RCMP's
website
, if you have been a victim of fraud or cybercrime, please contact your local police. If you want to report an instance of a scam, fraud or cybercrime, whether you are a victim or not, please
report it to the Canadian Anti-Fraud Centre
.