You can deposit any of the following cryptocurrencies into your Wealthsimple Crypto account from an external wallet:
Tip: Transfers are irreversible, so we recommend testing out a small amount first to ensure that it ends up at the right address.
How to deposit cryptocurrency into your Wealthsimple account
Depositing crypto into your Wealthsimple account means that you'll be moving coins or tokens into your Wealthsimple account from a wallet outside of Wealthsimple. The majority of steps you'll take will happen in the wallet from which you're withdrawing funds.
During the withdrawal process, you'll be asked to enter a deposit address. A deposit address is a unique string of letters and numbers that is used to send coins from your wallet to your Wealthsimple account.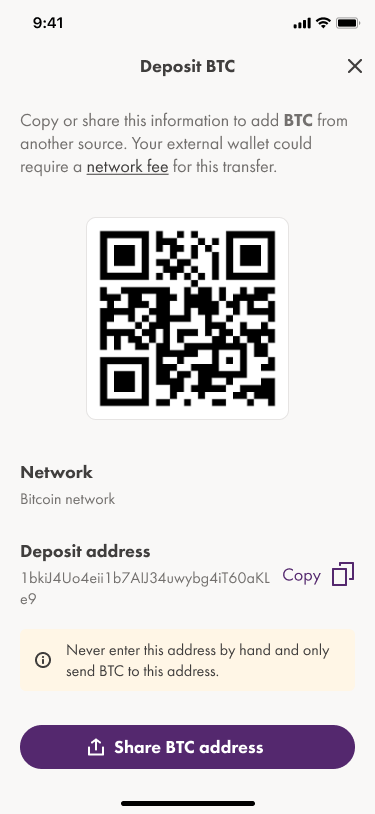 Each type of cryptocurrency in your account has its own deposit address. You'll need to make sure that you choose the address that matches the type of cryptocurrency you're transferring (Bitcoin or Ethereum, for example).
Find your deposit address
Please note crypto deposits are currently only available using the Trade app.
Sign into the Trade app on your mobile device
Tap the Trade tab at the bottom of the screen
Select your Crypto account
Under the Portfolio heading, tap the Transfer button
Select Deposit crypto
Choose the coin or token you'd like to transfer
Copy or share the deposit information to add that coin or token from another source
Under Security, select Quick access method
Select a quick access method
Note: If you don't see a Trade tab at the bottom of your screen, please update the Trade app.
Tip: Make sure that you are only sending your cryptocurrency via the coin's supported network. Each coin's supported network is listed in the chart at the bottom of this article.
Transfer fees
Cryptocurrency networks charge a fee to process transactions (also known as a gas or miner fee). This fee can vary by hour, by day, and by transfer amounts. The external wallet will let you know how much you need to pay to complete the transfer.
Wealthsimple has no control of these fees, so you'll need to check the details of the transaction using a block explorer link (like an Etherscan link) provided by the external wallet.
How long does it take to make a deposit?
Your transfer will go through a series of confirmations in the network before it's considered complete. In your activity details, we'll provide you with a link to track the progress of your transfer in real-time. Unfortunately, we have no control over the speed at which transfers are processed, however, you can find general estimates below –
| | | | | |
| --- | --- | --- | --- | --- |
| Cryptocurrency | Ticker | Number of confirmations | Estimated time to complete | Supported network |
| 0x | ZRX | 20 | ~5 mins | Ethereum (ERC-20) |
| Aave | AAVE | 20 | ~5 mins | Ethereum (ERC-20) |
| Basic Attention Token | BAT | 20 | ~5 mins | Ethereum (ERC-20) |
| Bitcoin | BTC | 3 | ~30 mins | Bitcoin |
| Bitcoin Cash | BCH | 12 | ~2 hours | Bitcoin Cash |
| Compound | COMP | 20 | ~5 mins | Ethereum (ERC-20) |
| Curve | CRV | 20 | ~5 mins | Ethereum (ERC-20) |
| Decentraland | MANA | 20 | ~5 mins | Ethereum (ERC-20) |
| Dogecoin | DOGE | 60 | ~1 hour | Dogecoin |
| Ethereum | ETH | 20 | ~5 mins | Ethereum (ERC-20) |
| Litecoin | LTC | 12 | ~30 mins | Litecoin |
| Kyber Network | KNC | 20 | ~5 mins | Ethereum (ERC-20) |
| Maker | MKR | 20 | ~5 mins | Ethereum (ERC-20) |
| Polygon | MATIC | 20 | ~5 mins | Ethereum (ERC-20) |
| Ren | REN | 20 | ~5 mins | Ethereum (ERC-20) |
| SushiSwap | SUSHI | 20 | ~5 mins | Ethereum (ERC-20) |
| Uniswap | UNI | 20 | ~5 mins | Ethereum (ERC-20) |
| Yearn.finance | YFI | 20 | ~5 mins | Ethereum (ERC-20) |